App
A unified cross platform desktop native app to manage fleet of device identities in your IIoT ecosystem. Minimizing your programming effort to help bring easier access to authentic and trusted data aynwhere.
Easy to use Interface
Experience intuitive control at your fingertips. The Scurid App is meticulously designed for clarity and efficiency, ensuring you effortlessly manage device identities and navigate the world of IoT data trust with precision and ease.
Plug and Play
Instantly elevate your IoT experience. With Scurid's plug-and-play design, dive into a world where integration is swift, straightforward, and designed for forward-thinkers who value time and innovation.
Manage your IoT fleet
Take command with precision. Scurid's intuitive dashboard offers a centralized view, empowering you to oversee, control, and optimize your entire IoT fleet with confidence and clarity.
Distributed Data Storage
Growing from local to global? We're with you!
Scurid offers production ready globally distributed data store for all your data. Whether deploying locally in your region or scaling your loT/loT globally - we can help you alleviate your effort to build such a distributed system at click of a button & couple of APIs.
Go from local to global. We're with you!
We offer built-in integration with CockroachDB, one of the most advanced distributed data storage systems. Start small, and when you are ready, deploy a globally distributed data store with just a few clicks.
Storing data in multiple locations
We understand that IoT is global. When you collect your valuable data, we ensure that you can transfer it to its consumer as quickly as possible, anywhere in the world. Check out our blogs to learn more about how we do this.
The Platform Identity is automatically created when user installs Scurid App & completes onboarding. Uniquely identifying each customer install base. This is also a super parent identity.
Tap to learn more about each identity
Click to learn more about each identity
Device Identities Management
Manage your device identities with ease
These are generated on the device using the Scurid Edge agents. Their keys purpose is to be used for replacing all kind of fixed credentials e.g. username password / API keys etc. These identities can be frequently rotated i.e. replaced with new identities.
View variety of details on each identity
View device context information like e.g. MAC Addr, IP address, OS information etc.. Enhancing to include more
Create and assign tags to categorize the identities for each search operations
Logs
Don't ever be left in the dark again
Every pivotal identity and platform event is captured, providing tamper-evident logs for streamlined compliance and troubleshooting.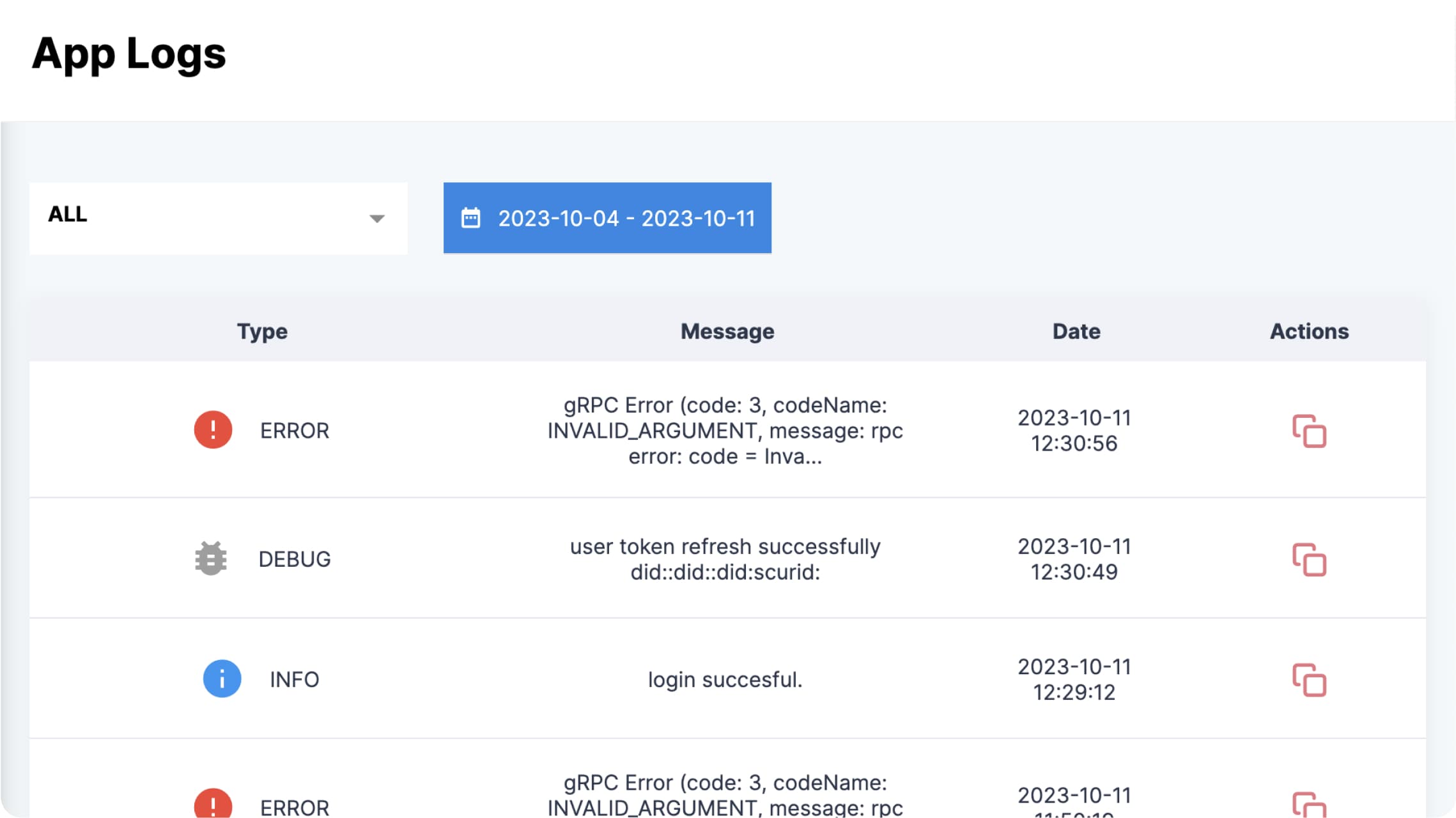 App Logs
Two types of logs are offered through Scurid App, to help you with all the info needed for support, or just to learn what's going on behind the scene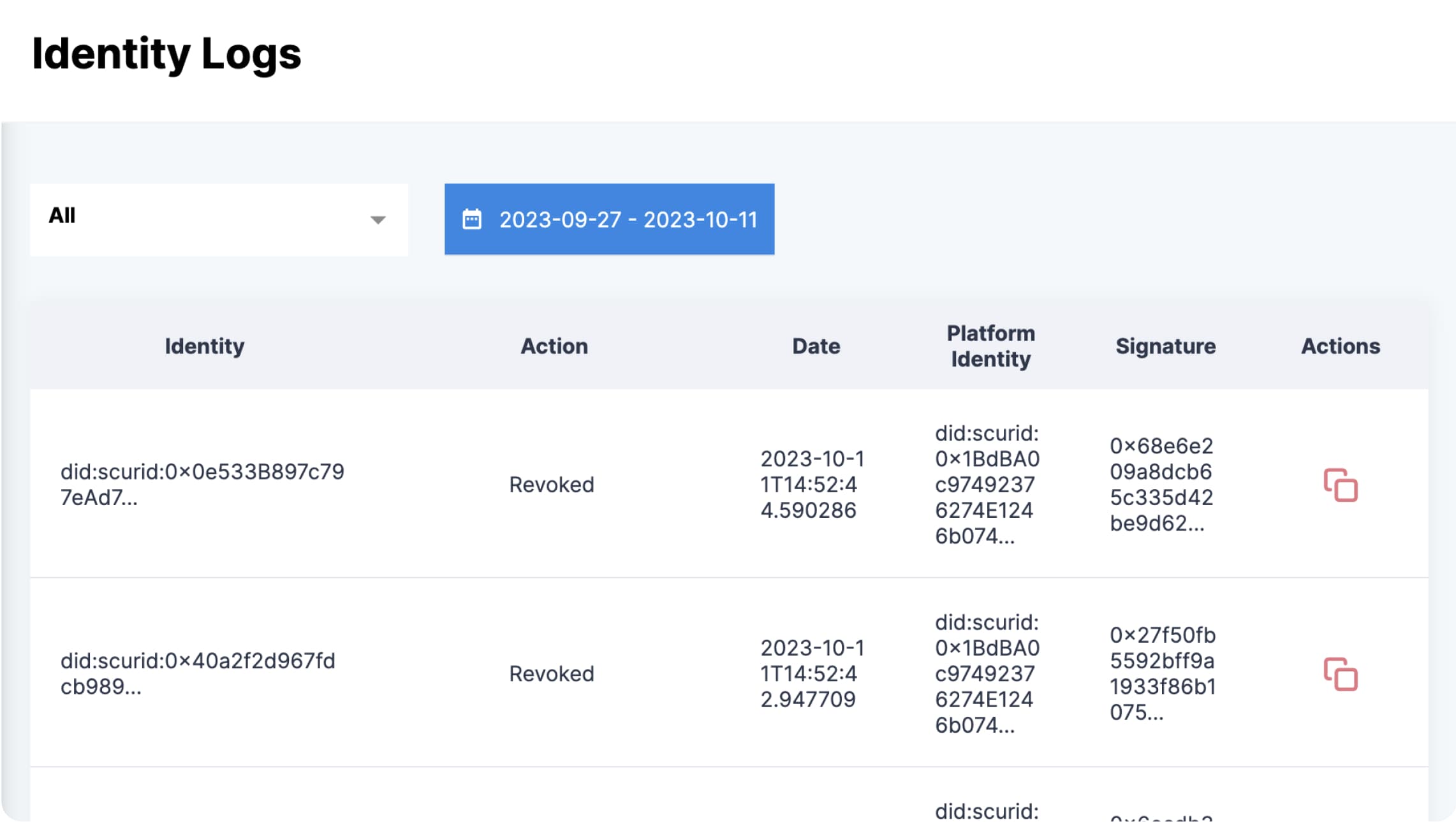 Identity Logs
Tracks all identity related activities and stores them with platform ID's fingerprint. No way to hide suspicious activities!
User Friendly Interface
An interface tailored to your needs
Customize your experience with a user-centric design, ensuring effortless navigation and optimal functionality
Global search
To quickly search for tagged identities
Sort
Optimize your identity management with built in sorting of identities.
Views
Tabular format with pagination built in for faster load better UX.
Time to secure your IoT devices
With Scurid's easy-to-use API-based platform for hardware, sensors, and applications we want to enable the adoption of secure autonomous systems. Scurid is already trusted in production, helping our users a faster and safer go-to-market.
Get started